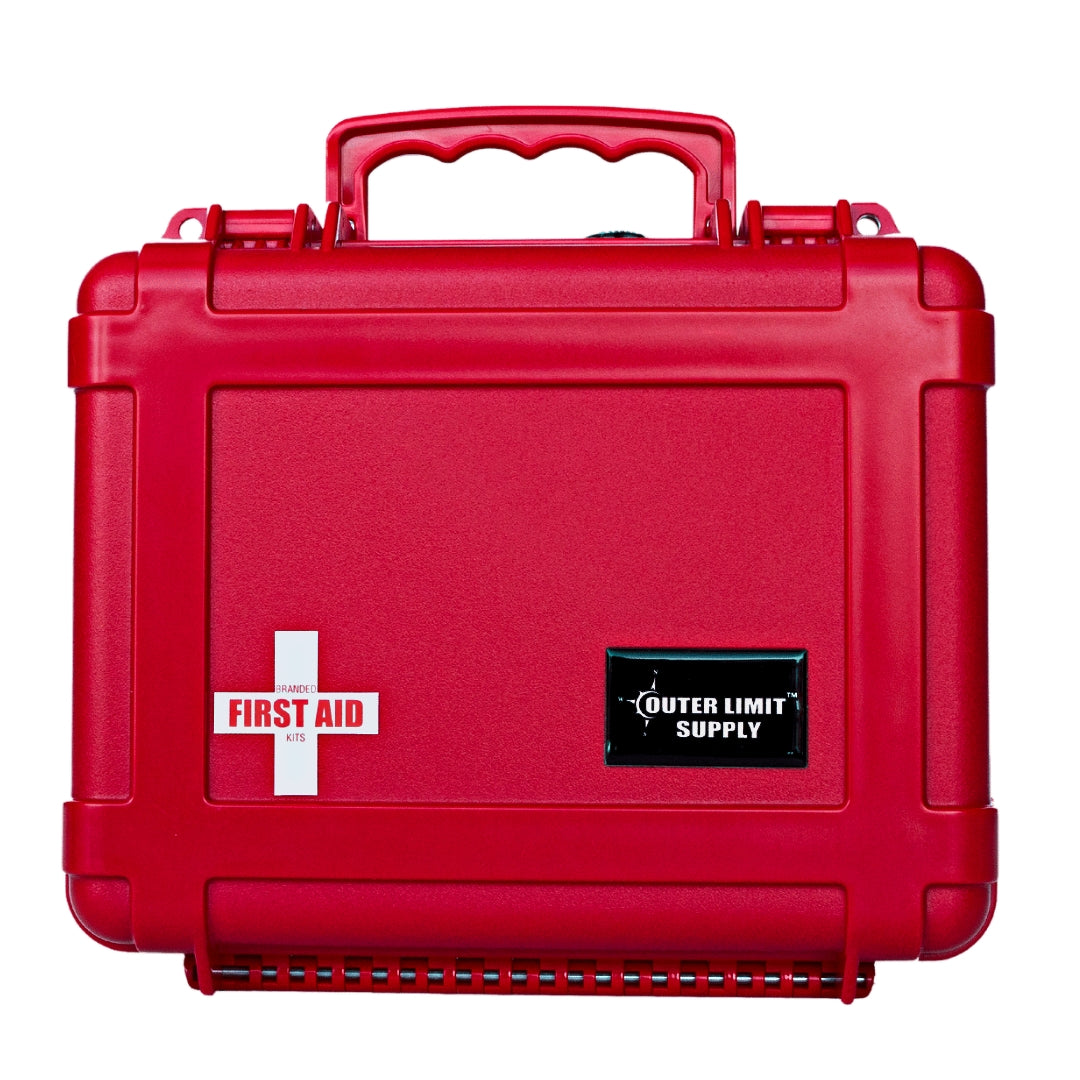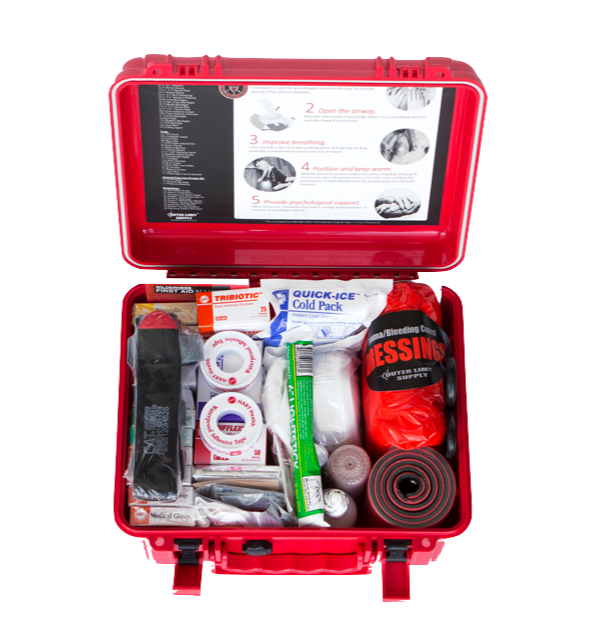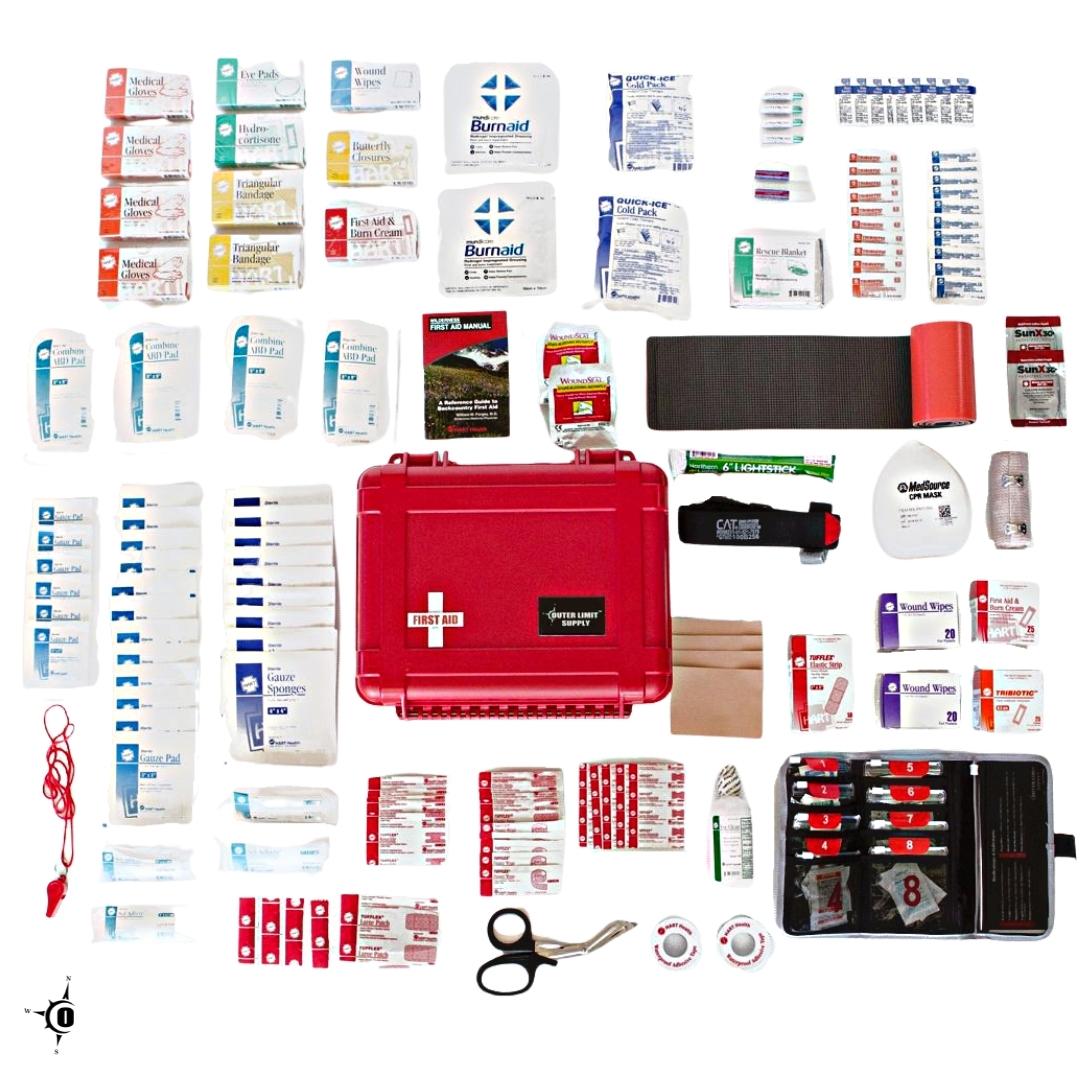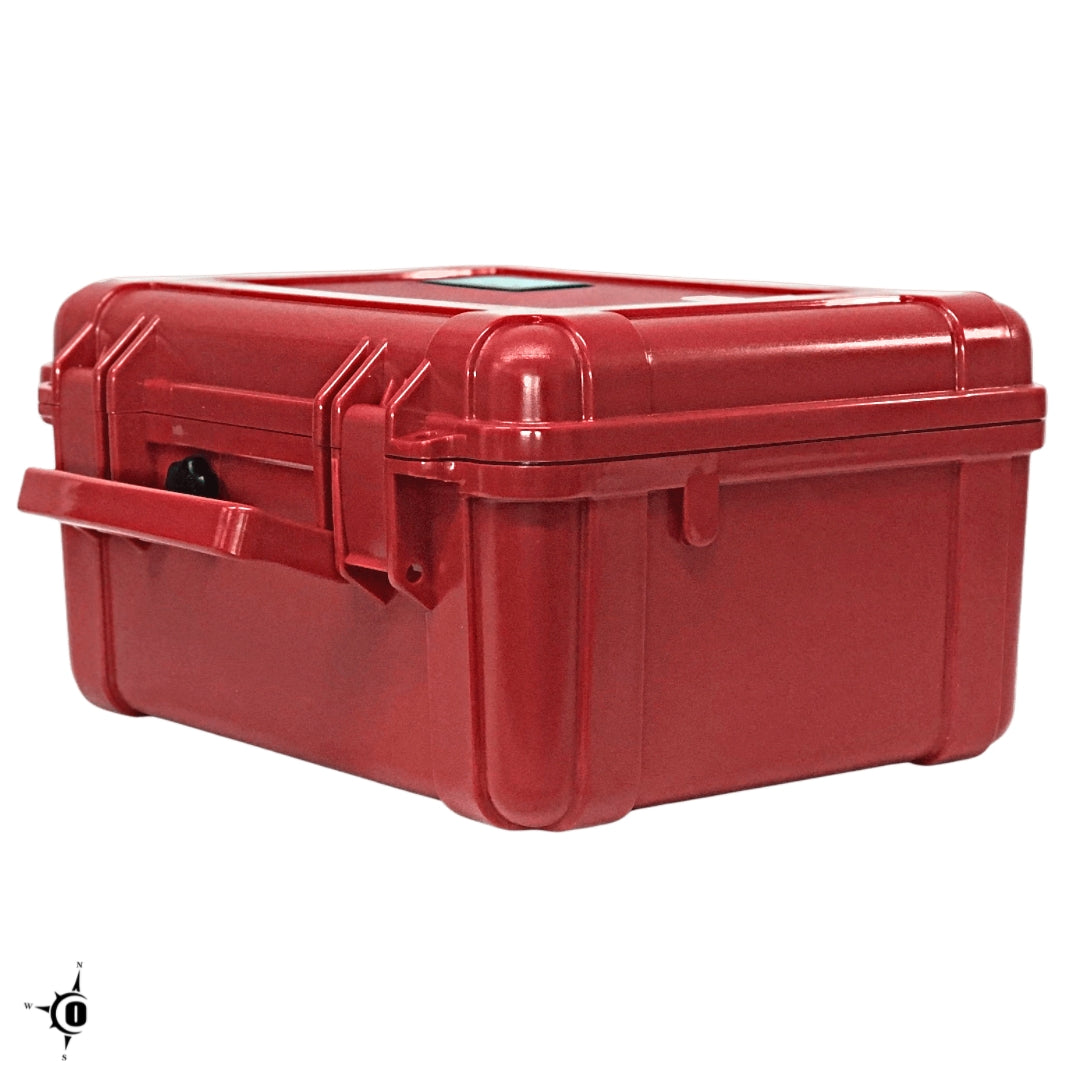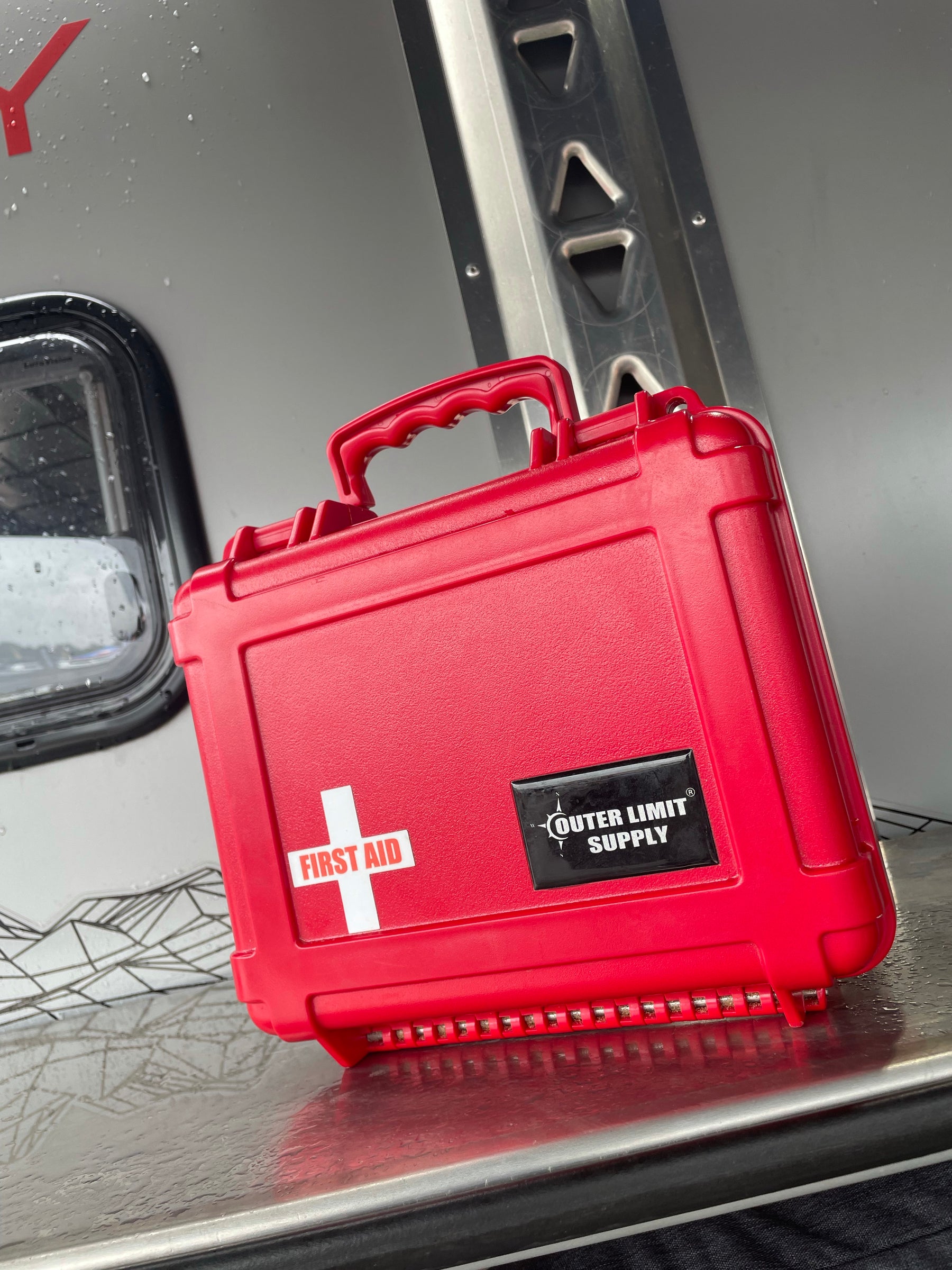 Waterproof 6500 Series First Aid Kit
Packing Option:
You Pack It- Scroll Down For Vid!
The case is made from an aesthetically pleasing and durable CORDURA ballistic nylon with a built in air-pressure release valve, foldable handle and heavy duty clips to keep contents protected and dry - even in extreme conditions or accidents. Our most comprehensive option for a Waterproof Medkit.
The shape is convenient and compact, yet spacious enough for the right amount of medical supplies to ensure the highest probability of survival after a traumatic emergency.
Great for:
overlanders, boaters, hikers, fishermen, campers, farmers, dog owners, Xtreme athletes, medics or team doctors - anyone who desires true preparation. 

About This Med Kit: 
Carefully crafted for 4+ people.
Treat traumatic injuries

 

with heavy bleeding and prevent loss of life.
Care for burns, scraps, sprains, breaks, or gunshot wounds.
Includes lifesaving medication. (cardiac, diabetes, allergic reaction, etc)
* (HSA) and (FSA) eligible
Exceeds the ANSI/ISEA Z308.1-2015 standard for Class B FAK's.
Guarantee: Use this MedKit to save a life, we'll refill it FREE. 
Waterproof 6500 Series Contents
Dressings:
(50) 1 X 3 Plastic Strip Bandage Box
(2) 1/2" X 5 Yards Adhesive Tape
(2) 2" Rolled Gauze
(6) 2" X 2" Gauze Pads
(6) 2" X 3" Moleskin
(3) 3" Rolled Gauze
(12) 3" X 3" Gauze Pads
(3) 4" Rolled Gauze
(2) 4" X 4" Cool Blaze Burn Dressing
(16) 1" X 3" Woven Elastic Patch Bandages
(5) 2" X 3" Elastic Patch Bandages
(5) Elastic Knuckle Bandages
(5) XL Elastic Fingertip Bandages
(9) 4" X 4" Gauze Pad 12 Ply
(4) 5" X 9" Abdominal Pads
(1) Trauma Dressing
(4) Eye Pads Sterile
(25) Triple Biotic Ointment
Tools:
(1) Tourniquet~ C-A-T® or SOF® Tactical Tourniquet Wide
(2) Self-venting Chest Seals
(1) Emergency Trauma Dressing
(1) S-Rolled Gauze
(1) 4"x 9' Esmark Bandage
(40) Antiseptic Wipes
(10) Butterfly Closures
(2) Celox Wound Treatment
(2) Cold Pack
(25) Cool Blaze Burn Gel
(1) CPR Mask (Adult/Child)
(4) Disposable Gloves (8 Pairs)
(1) Emergency Survival Blanket (84"X52")
(2) Liquid Skin Bandage
(1) Paramedic Shears
(1) Sam Splint 36"
(10) Soothe A Sting Swabs
(2) Triangle Bandages (40" X 40" X 56")
(1) Tweezers
(1) Wilderness First Aid Booklet
Medications:
(1) Medication Reference Card
(5) Aspirin (Chest Pain)
(1) Glucose Tube (Low Blood Sugar)
(5) Cetafen Extra Strength (Non-Aspirin)
(5) Diotame (Diarrhea)
(5) Exaprin (Pain Relief)
(5) Histaprin (Allergic Reaction)
(5) Ibuprofen (Pain Relief)
(5) Medi Lyte (Dehydration)
Exterior Dimensions: (12.81 x 10.36 x 6.64)
How to pack your kit link:
Awesome kit
Got this kit less then 2 weeks ago and have used it three times already! ( unfortunately)
Great kit
Love this kit. All inclusive. Whistle included is cheap and will break but no biggie. Not much room to add your own stuff (IV bags etc). The magnet mount is awesome and works flawlessly. I wish the hole for the padlock had a little more room to fit something bigger than a suitcase lock. Still 5/5. This thing is legit.
One heavy duty kit
This thing is one tough all in one kit. Took it out this weekend camping and utv riding. Good first impression on how well put together and strong this thing is. Will definitely be looking at getting more kits for all of my vehicles and rv. Great product and customer service
Amazing Kit!
Really impressed with the quality of products in this kit. Now I feel a lot more comfortable taking my family on overlanding trips. Thanks for the amazing kit!
Durable case and full of everything you hope you don't need
Love the portability and durability of the case and the fact it is waterproof. Picked up the mounting bracket for it as well. Have not mounted it anywhere yet, but this will likely move from vehicle to vehicle and boat for us as we head out on adventures. Full of quality supplies that we hope we never need to use, but we are prepared in the event we do.