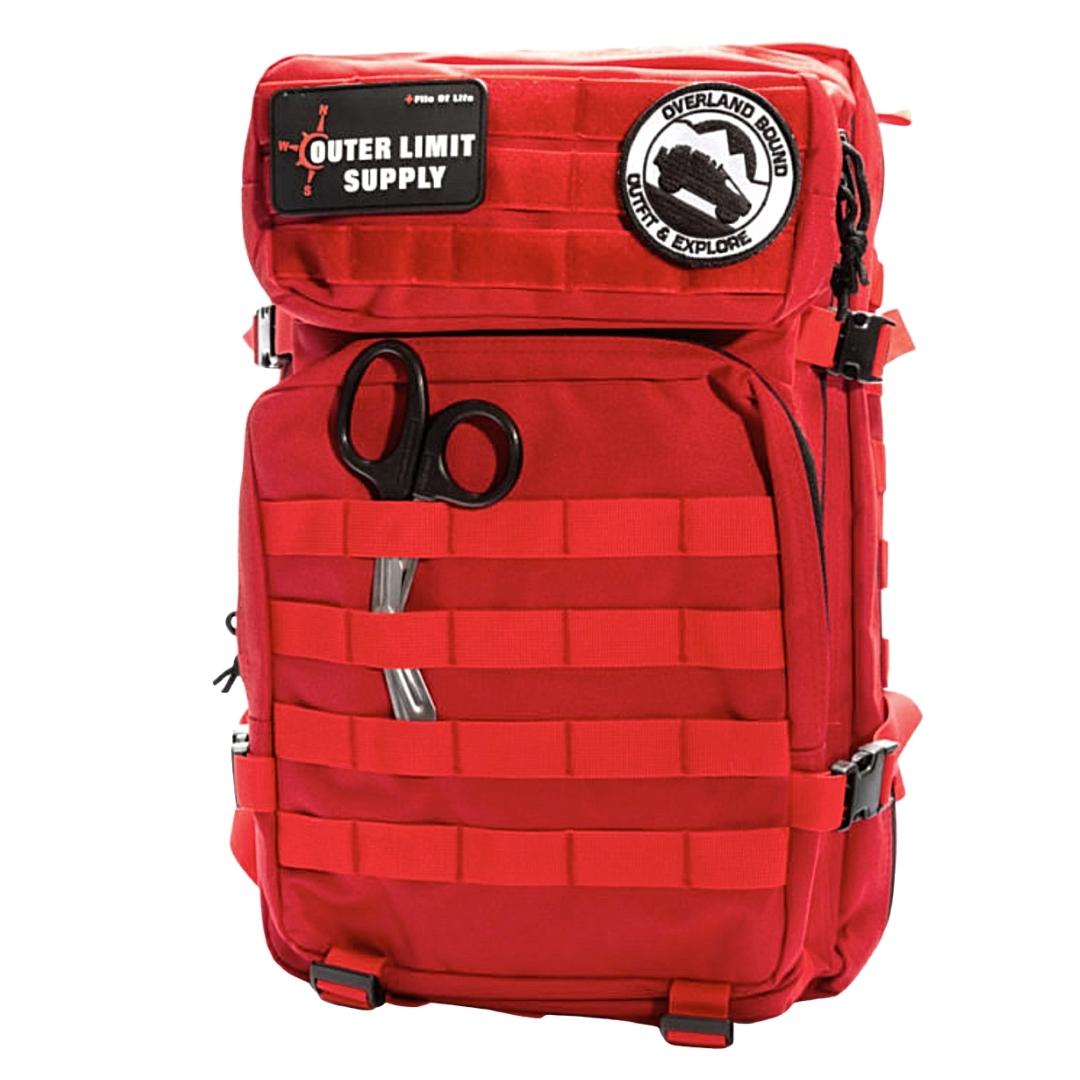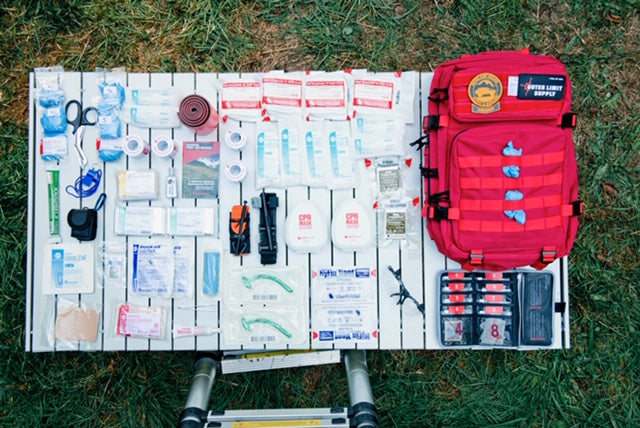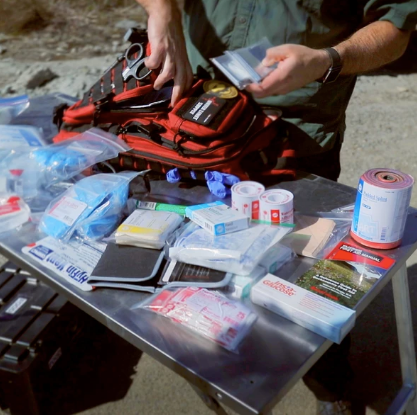 Overland Bound 3-IN-1 First Aid Kit
Color Choice::
Olive w/ Red Stitching
The Overland Bound Series First Aid Kit is a collaboration between Outer Limit Supply and Overland Bound. This is an advanced first aid kit with substantial supplies to care for larger groups. Designed with professionals and adventure enthusiasts in mind. 
Arrives in a high quality, cinch-able backpack with three modules (Trauma Pack, Basecamp Pack, and Shooter's Pack). When each module is packed in the backpack, there should be extra room for other supplies. 
This first aid kit is not prepackaged because options for arrangement.
*(HSA) and (FSA) eligible
Trauma Pack:
(4) XL Nitrile exam Gloves
(4) Large Nitrile exam Gloves
(2) Small Nitrile exam Gloves
(1) Eye protection
(3) Hand Sanitizer
(1) Trauma shears
(1) Rescue Whistle
(2) Emergency survival blanket
(2) CPR Mask (Reversible for Child)
(4) 4" Rolled Gauze
(4) 5"x 9" Abdominal Pad
(2) 2" Adhesive Tape
(4) 4"x 4" Gauze Pads
(1) Glow Stick
Basecamp Pack: 
(1) Wilderness First Aid Booklet
(1) 36" Moldable Splint
(1) Triangle Sling
(2) 2" Adhesive Tape
(6) 2"x 3" Moleskin
(2) Cold Pack
(1) Tweezers
(1) Elastic Bandages (Variety Pack of 5 each)
(10) Antibiotic Ointment
(10) Anti-itch Hydrocortisone Cream
(1)  Medication Pack (2 Pack/Med):
(2) Aspirin (Chest Pain)
(2) Cetafen Extra Strength (Non-Aspirin)
(2) Diotame (Diarrhea)
(2) Exaprin (Pain Relief)
(2) Histaprin (Allergic Reaction)
(2) Ibuprofen (Pain Relief)
(2) Medi Lyte (Dehydration)
(1) Glucose Tube (Low Blood Sugar)

(1) Reference Card 
Shooter's Pack (Bleeding Control):
Loose Items:
(2) Nasopharyngeal Airway 28F with Lubricant
(1) Windlass Tourniquets
(1) Emergency Trauma Dressing
(1) S-rolled Gauze
(1) ESMARK Bandage 
Vacuum Sealed Bleeding Control Items: 

(1) C-A-T® Tourniquet
(1) 6 in. Emergency Trauma Dressing
(2) Compressed Gauze
(1) HyFin® Chest Seals, Twin Pack
(2) Pair, Responder Nitrile Gloves, Lg
(1) Responder Trauma Shears, 7.25 in
(1) Survival Blanket
(1) Permanent Marker, Small
(1) Just in Time Instruction Card
Excellent Kit
I purchased two of these, one for each Jeep. Excellent kit, well thought out and put together kit.
Thank you Sir! Don't hesitate to contact us if you have any questions and here's a newly released video regarding 'How to pack your kit': https://youtu.be/eOd4mtuDv3M