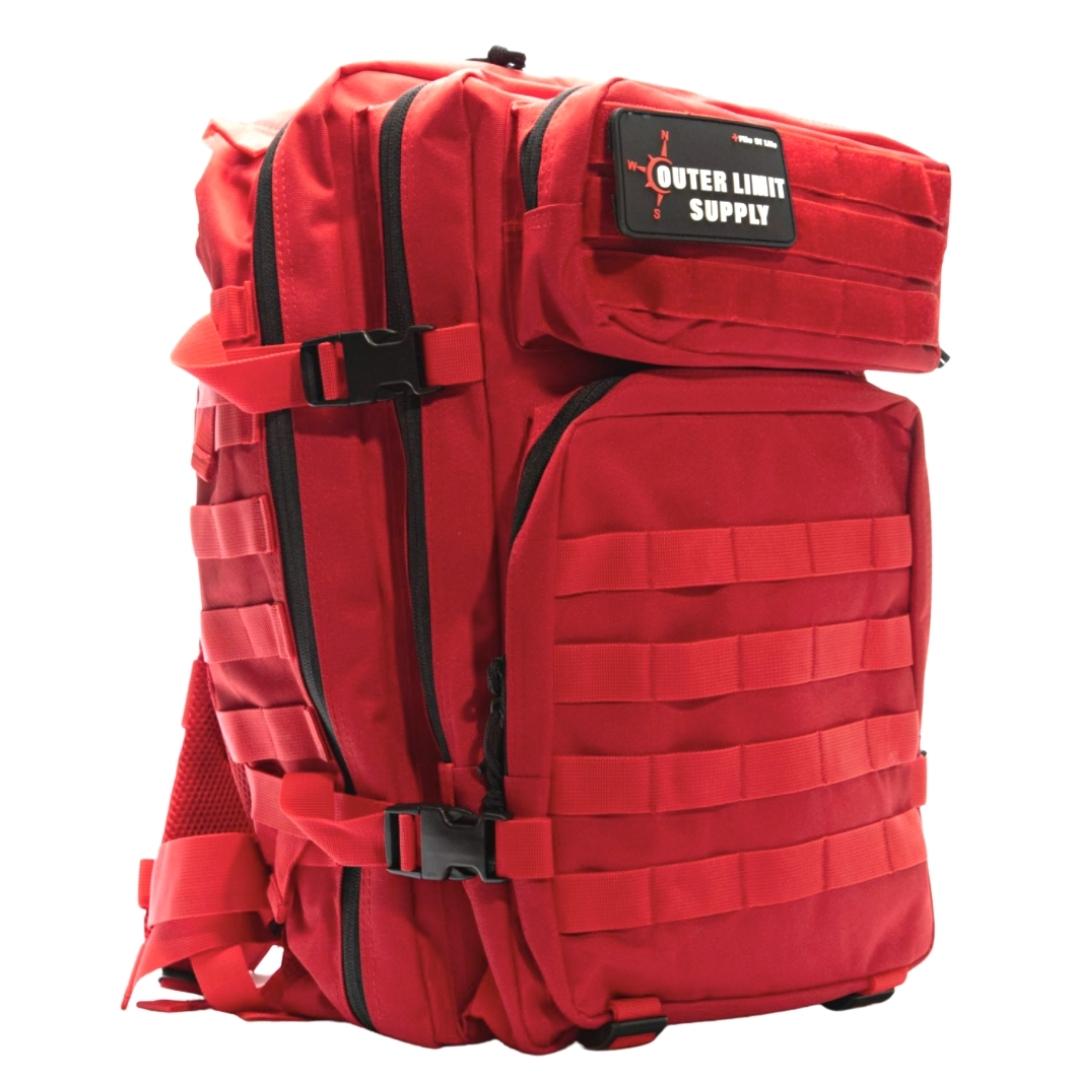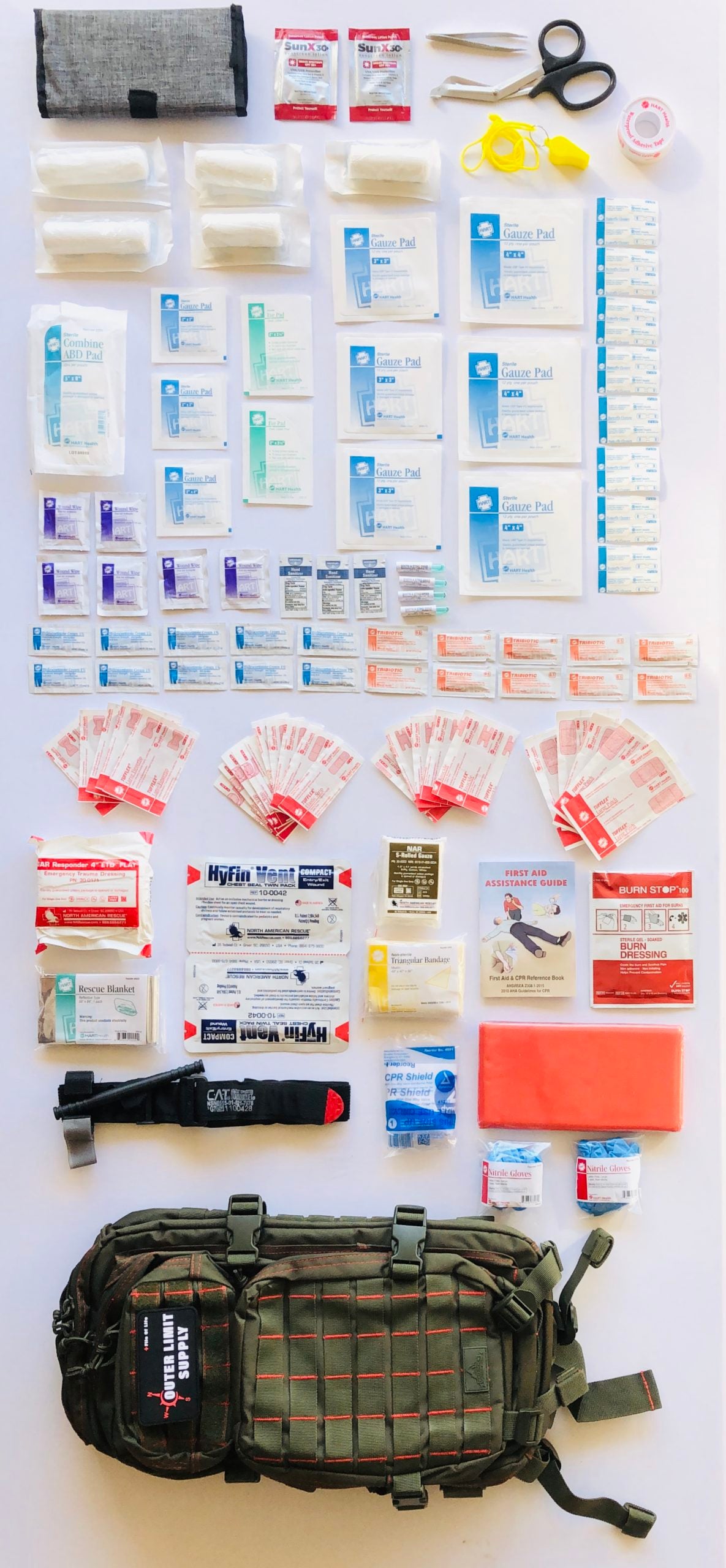 All-Terrain Backpack First Aid Kit
Packing Option::
You Pack It- Scroll Down For Vid!
Color Choice::
Coyote w/ Red Stitching
Truly the worlds most comprehensive MedKit. This configuration of our most comfortable and convenient First Aid Kit boasts substantial supplies and is suitable for a variety of emergencies. The main compartment of the backpack is open for your lunch, jacket, rain gear, or anything else that you may need while hiking to that hidden waterfall! 
This Med Kit Will: 
Care for 1-2 people depending on the severity of injury
Treat traumatic cuts, scrapes, heavy bleeding and avoid dangerous infections or loss of life.
Manage burns, gunshot wounds, sprains or breaks.  
Includes lifesaving medication. (cardiac, diabetes, allergic reaction, etc)
* (HSA) & (FSA) approved. 
* Designed & assembled in Denver, Colorado.
Dressings:
(1) 5" X 9" Trauma Pad
(1) 4" x 4" Burn Dressing
(3) 2" X 2" Gauze Pads
(3) 3" Rolled Gauze
(2) 4" Rolled Gauze
(3) 3" X 3" Gauze Pads
(3) 4" X 4" Gauze Pads
(5) 1" X 3" Adhesive Bandages
(5) 2" X 4" Adhesive Bandages
(5) Knuckle Bandages
(5) XL Fingertip Bandages
(5) Finger Wraps XL
(16) Butterfly Closures
(1) Eye Pads (1 Pair)
(1) Adhesive Tape
Tools:
(1) Tourniquet 
(2) Self-venting Chest Seals
(1) S-Rolled Gauze
(1) Pressure Bandage
(1) Moldable Splint
(6) Antiseptic Wipes
(3) Hand Sanitizer
(10) Antibiotic Ointment 
(10) Hydrocortisone Cream 
(4) Sooth a Sting Swabs
(2) Sunscreen
(1) First Aid Booklet
(1) Rescue Blanket
(2) Exam Gloves
(1) Triangle Bandage
(1) Rescue Whistle
(1) Trauma Shears
(1) Tweezers
(1) CPR Shield
Medications:
(1) Medication Reference Card
(2) Aspirin (Chest Pain)
(1) Glucose Tube (Low Blood Sugar)
(2) Cetafen Extra Strength (Non-Aspirin)
(2) Diotame (Diarrhea)
(2) Exaprin (Pain Relief)
(2) Histaprin (Allergic Reaction)
(2) Ibuprofen (Pain Relief)
(2) Medi Lyte (Dehydration)

Additional Information:
The backpack has four expanding compartments and provides up to 28 liters of storage with built-in internal dividers and zippered pockets. Adjustable reinforced padded mesh shoulder straps, an adjustable waist strap, and sternum strap evenly distribute the weight across shoulders and waist for long lasting comfort.
A padded mesh back panel panel serves as a concealed storage pocket (firearm, water bladder or valuables not included).
With compression straps on three sides, it is a cinch to tighten down your pack or reduce the volume if you aren't fully loaded. The outside of this pack is clad in MOLLE webbing to allow for expansion and further customization.
WEIGHT: 3.5 lbs.
DIMENSIONS 9.5w x 18h x 12.5d inches
How to pack your kit link: